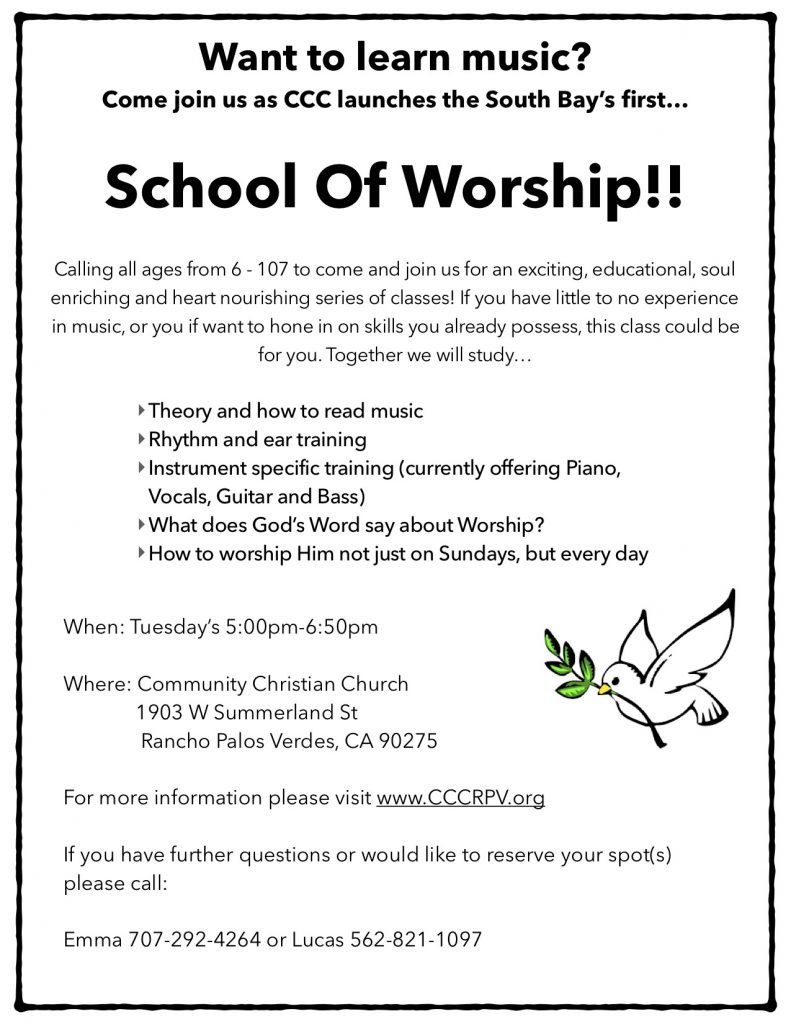 In order to comply with current protocol, the opening of SOW will be postponed until further notice.
Please sign up in order to receive your schedule and reserve your spot in advance as space will be limited. Thanks for your understanding!
---
What will you learn?
At CCC's SOW you will learn about what it is to truly worship God. This means not just playing an instrument and making a noise, but getting your heart in the right place before and whilst doing it.
If I could speak all the languages of earth and of angels, but didn't love others, I would only be a noisy gong or a clanging cymbal.
1 Corinthians 13:1
You will also learn all about music…
Harmony
You will also learn about the theory behind the music. The classical greats like Mozart, Beethoven and Bach – the father of harmony – give us a wonderful insight into what harmony is and how we can use it to make beautiful emotive music for the Lord. We will also learn about Jazz harmony which lies at the root of all popular music today. Once you have a knowledge about the theory of music many doors will open in your musical life and you will be amazed at what you can both hear and create.
Rhythm
Learning how to lock in to the rhythm and keep time is crucial in music, and is a skill that you will need to progress in any instrument. We will use simple exercises to find the beat and keep it steady.
Ear Training
You will learn how to use your ears to analyze what you are hearing and recreate it on the spot.
Sight Reading
You will learn how to read and write music – an invaluable tool in the music world, which again will open many doors. This is especially crucial if you want to go on to play professionally or to one day teach.
Your Instrument
You will learn about your instrument, how it works, how to take care of it, and how to get the best out of it through proper technique and practice.